JAD ELKHOURY, DDS, MS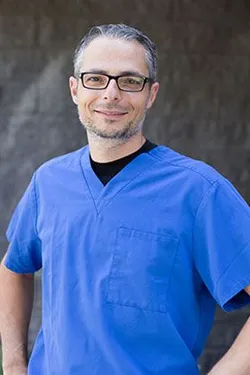 Dr. Jad Elkhoury is a specialist in the dental field of periodontics. His extensive training, commitment to continued education, and dedication to individualized patient care has established him as a leader in his field. Dr. Elkhoury combines clinical experience with scientific research to identify risk factors and treat periodontal disease using the most advanced and proven treatment options available today. Dr. Elkhoury's training and published research specific to dental implants are invaluable instruments that allow him, with the help of your restorative dentist, to restore compromised and missing teeth. The body of evidence continues to support the correlation between periodontal and systemic health and as dental implants have become the standard of care, Dr. Elkhoury and his team are best qualified to help you achieve periodontal well-being.
After graduating from the University of California, San Diego with a B.S. in Biochemistry, Dr. Elkhoury attended the Baltimore College of Dental Surgery at the University of Maryland where he was elected President of his dental class. After earning his Doctor of Dental Surgery degree in 2001, and graduating among the top of his class, Dr. Elkhoury was able to pursue his training in the specialty of periodontics, dental implants, and administration of oral and intravenous sedation at The Ohio State University, where he also earned his masters degree.
In 2006, Dr. Elkhoury became Board Certified as a Diplomate of the American Academy of Periodontolgy, an accomplishment attained by only 15% of periodontists nationwide. In that same year, Dr. Elkhoury established his periodontal practices in both Napa and Sonoma. Outside of his time spent on patient care, Dr. Elkhoury enjoys soccer, running, mountain biking and snow skiing. Dr. Elkhoury also cherishes family activities with his wife, Stacie and their four children.
Dr. Elkhoury's passion for education is reflected in delivering, each year, over 50 hours of lectures and presentations on the most current research and treatment modalities available today. By invitation, Dr. Elkhoury has also provided continuing education to his peers at the California Society of Periodontics. Dr. Elkhoury's commitment toward excellence in collaborative care also includes his monthly participation in the Seattle Study Club. This prestigious educational organization emphasizes the best in comprehensive multidisciplinary care. Dr. Elkhoury is a member of the following associations: American Dental Association; American Association of Periodontology; Western Society of Periodontolgy; California Society of Periodontolgy; International Congress of Oral Implantologists.
Dr. Elkhoury and his highly trained team are honored to have the opportunity to help you achieve periodontal wellness. Welcome to our practice.